Tips To Get Top Dollar from Used Truck Buyers
Keeping an outdated, non-drivable truck on your property can become a stress point and its best to look for used truck buyers immediately. Rust and dust accumulate on it, and its value continues to decline over time. So, dispose of it if you do not intend to use it. But it's more complicated than it might seem to sell used trucks, primarily if it acted as more than just a set of wheels.
Many truck and fleet owners invest heavily in their big rigs and maintain and service them well, so they run for longer and have fewer breakdowns. Therefore, they are hesitant to consider scrapping their older trucks even when the vehicles are on their last legs. Based on this, this can be a mistake since older trucks breakdown more often, which means you spend far more on repairs than you need to.
Why Sell Used Trucks Now?
Keeping an outdated, non-drivable truck in your lot invites headaches and problems. Rust and dust accumulate on it, and over time, its value continues to decline. Furthermore, dispose of it if you're not intending to use it. But it's harder than it might seem to sell a used truck, especially if it acted as more than just a set of wheels.
Regardless of how worthwhile your clunker has been to you over the years, you should consider selling old truck for cash if you find that it has reached the end of its lifespan, is damaged, unused, or totaled. Fortunately, this process is made simple by our efficient and professional cash for used truck team.
We'll buy your trash trucks, give you the best possible price, and even remove them at zero cost to you. We offer top cash for junk trucks and pay the most for your vehicles. Worry not- we buy junk trucks regardless of their condition- rusting, damaged, without wheels, working, non-working, and so forth - we buy used trucks!
We don't care why you need to get rid of your old trucks; it doesn't matter to us. The truck's make, year, and model are basic details that we consider only during the assessment procedure. We will gladly give you good money for a second-hand big rig, no matter how broken, damaged, or totaled it is.
The distinctive aspect of it is that we recognize the urgent nature of your situation and will offer same-day service, which begins with a free inspection and assessment of your junk truck by our specialists. Give us a call and let us know you're interested in selling us your unwanted truck.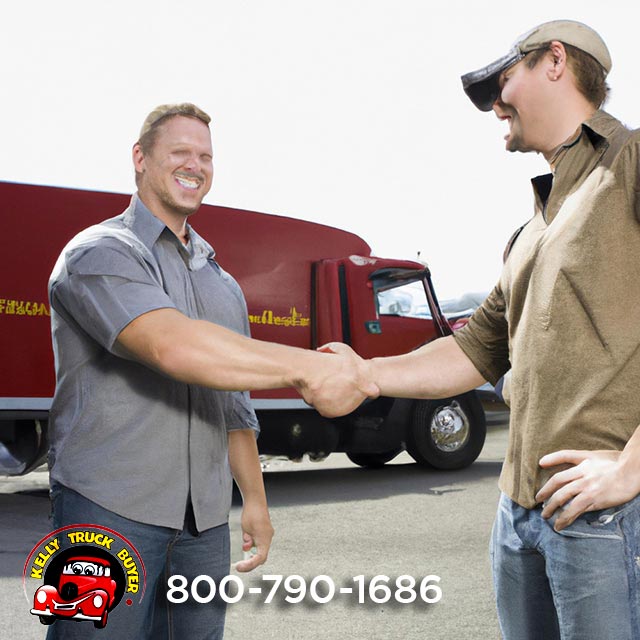 Our Check or Cash for Junk Truck Service is Super-Efficient
To determine pricing, our experts will consider your vehicle's age, make, model, and condition in addition to its current state. Once you set an appointment, they will visit your location to look at the truck in person and establish a price that accurately reflects these factors.
When you accept, they give you the entire amount and haul the car away right away the same day. As you can see, there aren't any pointless delays, onerous documentation requirements, broken promises, or hidden charges. You give us your used truck and walk away counting cash.
Our same-day cash for scrap truck is as open, timely, flawless, and professional as possible. As part of our service, we also provide free environmentally friendly truck recycling. You can see that our service is simple, frictionless, and, most importantly, customer-focused. Thanks to our highly competent, open, and customer-focused approach, we are your go-to source for cash for unwanted truck removal.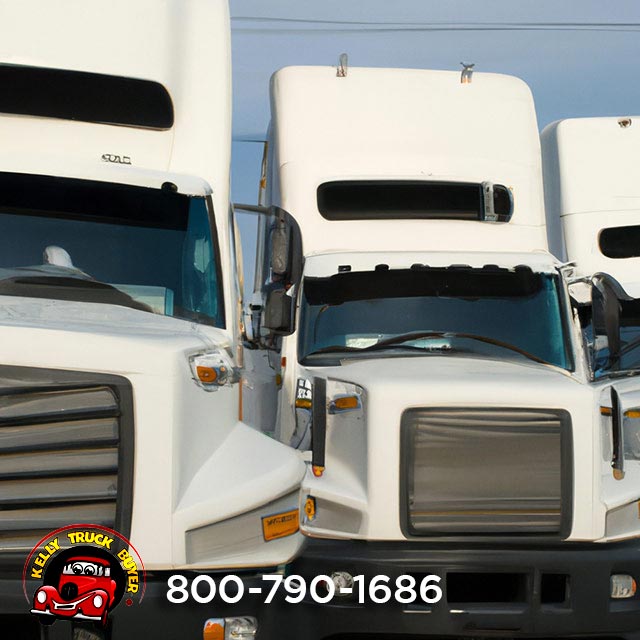 We are Buyers of Old Trucks for Sale
Here are the salient features of our junk truck buying process:
Our professionals are licensed and bonded, and we are fully insured.
To ensure environmental responsibility, we tow the trucks using cutting-edge technology.
No matter their condition, age, or brand, we haul and give cash for unwanted trucks of any model, size, kind, and capacity.
To ensure your complete satisfaction, we provide same-day service and uphold the strictest standards of transparency.
Sell Your Used 18-Wheelers for the Most Cash
You no longer have to be concerned about selling your used or junk truck. It makes no difference that your semi-truck is barely standing- we will purchase it at an excellent price. KELLY TRUCK BUYERS provides a competitive quote no matter what state your truck is in, and that's our promise. We have a reputation for offering incredible deals on the most damaged trucks and have regular customers that choose us to sell old trucks from their fleet.
Our ability to offer our customers a great price point when they sell unused trucks is made possible by our connections with a vast recycling center and salvage yard network. We have years of experience in this area and have established a specific niche. We take pleasure in what we do, and there are no unpleasant surprises or unforeseen costs when working with us.
Free Hauling of Your Damaged Truck for Sale
Many heavy-duty truck buyers don't want to provide free towing for big rigs. Taking this into account, we like to keep things as simple as possible for our customers. After accepting our offer, there is absolutely nothing you need to worry about again. We are the most reliable company in your area when you search for "buyers for old trucks near me." In fact, after viewing the kind of money we are ready to offer, many of our customers choose to sell their entire aging fleet of trucks.
Our clients appreciate our team members' professionalism and expertise as dedicated junk truck buyers and removers. We are prompt in responding since we respect your time. Our team will arrive at your doorstep at your convenience and complete the truck removal quickly. Our experts ensure you have a seamless experience and quick cash in your pocket when you sell unused trucks to us.
Get Complete Peace of Mind by Selling a Second-hand Truck
Everybody could use a little extra cash. Did you realize that the junk on your property could sell for a tidy sum? Your search for buyers of used trucks ends here. We have a set process to establish a fair market value for an outdated heavy truck. Believe us when we say that most trucks are worth more than the cost of scrap metal. Even if you have a totaled junk truck, you can rely on us to make a fair offer for it.
You won't have to wait longer than the agreed-upon time for payment, which we will make in cash when we remove the old truck for sale from your property. You can't go wrong when you choose us to sell your second-hand big rigs!
Why Choose KELLY TRUCK BUYERS for Your Old Truck for Sale?
We take significant satisfaction in being the best junk truck buyers and paying top prices to our customers. When you search online, we stand out from our competitors in buying semi-trucks for several reasons. Here are a few factors that influence our customers' decision to choose us over other operators in the space:
Courteous and friendly staff
Dealing with impolite operators is not something you want to do. Our employees are pleasant, cordial, and professional. We want to buy junk trucks from you and prefer to do so pleasantly and professionally.
Best cash payout for used trucks
A heavy truck needing repair will sell for less than a used truck in suitable condition. However, we continue to provide the best prices for all trucks. When you see what we've got to offer, you'll be pleasantly surprised and won't have to second-guess whether to sell the truck. Request a quote right away!
Free truck removals
We have several years of experience providing environmentally friendly damaged truck removals. Whether a truck is running or not, our skilled free truck removal staff can handle any removal. No big rig is too damaged, massive, or rusted for us to handle. We can manage any truck removal that comes our way because of our highly skilled professionals and cutting-edge tools. Request a quote right away for:
Wrecked Truck Removal
Scrap Truck Removal
Truck Removal
Junk Truck Removal
Accident Truck Removal
Unwanted Trucks
Used Truck Statistics
In the United States, the market for used trucks is estimated to be worth $50 billion a year. (Source: Statista)
The average price of a used truck in the US is $20,000. (Source: Kelley Blue Book)
In 2019, the number of used trucks sold in the US was 8.7 million. (Source: Statista)
The average age of a used truck in the US is 7.5 years. (Source: Autotrader)
In 2019, the most popular used truck model in the US was the Ford F-150, with over 1.2 million units sold. (Source: Statista)
Over 70% of used truck buyers in the US are male. (Source: Autotrader)
Over 40% of used truck buyers in the US are aged between 35 and 54. (Source: Autotrader)
We Buy Old and Damaged Trucks for the Best Price
We work hard daily to provide customers with a top-notch old truck removal service. Our professional service complements our great cash for truck offers, resulting in convenience and value for you. Even better, our skilled professionals will work around your schedule and time the truck removal at your convenience.
Whatever the reason you want to sell used trucks, we will buy them! We are a cash for trucks business that is eager to pay you money for your unwanted truck, regardless of its make or condition. We promise to provide immediate cash at your doorstep.
KELLY TRUCK BUYERS is a seasoned, licensed used truck buyer who makes fair cash offers. We provide fast cash for scrap trucks. We are quick and respectful of our clients' time and have designed our services to be the most straightforward option for selling your unwanted truck.
Sell Your Used Truck to Kelly Truck Buyers for Top Dollar Today
Call us right away to sell junk trucks. You can't go wrong with our hassle-free service and free pickup. Whether the big rig comes from the truck owner or company, we will pay cash for junk truck. We stand by our best cash bids and competitive costs.
If you want to sell a single truck or an entire fleet, we are here to help. Want more information about how our used truck buyers can help you? Call KELLY TRUCK BUYERS at 800-790-1686 or fill out our online contact form.